Safety Training, Well Control, Medical & Security Services
Health Security Education is an integrated health, safety and nationally Registered Training Organisation (RTO) which provides onsite and remote offsite health & safety training, medics and security with state of the art facilities in Brisbane and Perth. We are a leading health and safety service provider to the mining, oil, gas, construction and seismic industries.

Recognised Training
Health Security Education is a nationally Registered Training Organisation that provides health and safety training from First Aid , through to a wide variety of resource-specific training courses such as RigREADY.
Well Control Academy
Well Control Academy is one of Australia's most respected well control training schools for Surface & Subsea drilling and completions operations, offering IWCF and IADC Well CAP certified training.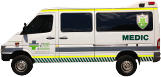 Medical Services
Health Security Education supplies emergency care 24/7 anywhere in Australia from a single Medic to an integrated first-response solution including 4WD Medical Response Vehicles, & medical staff who can facilitate onsite training in remote locations.
Health Security Education is a nationally recognised training organisation (RTO # 40907) with offices based in Brisbane and Perth that delivers training to the resources & public sector across Australia. Health Security Education can provide comprehensive training packages for your organisation from First Aid and CPR, through to resource- specific courses such as RigREADY™ or Well Control training, onsite medical and security services.